Dirt Bagz – Baja Tool Bags:
Dirt Bagz  make a large array of top quality products. These Dirt Bagz Baja Tool Bags are of exceptional quality, and make keeping tools, parts, camp gear and more organised and protected. Whether you're off road racing, biking or touring Australia in a wagon or ute, these Baja Tool Bags cater to your organisational needs. Baja tested and proven these tool bags are perfect for keeping all your tools and gear secure, safe and organised.
Featuring:
– Rip resistant 600 gram fabric.
– A YKK Duracoil Zipper.
– An inner web lining to increase puncture resistance.
– Hardware for mounting.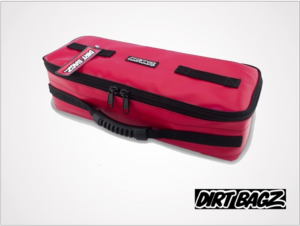 Sizes:
S – 304mm x 150mm x 75mm
M – 460mm x 150mm x 50mm
L – 460mm x 150mm x 130mm
XL – 460mm x 200mm x 115mm
If you have any questions contact us today on [email protected] or place your order online!!!
Popular Products: